Welcome to the October 2012 Simplicity Parenting Carnival: Holidays
This post was written as part of the monthly Simplicity Parenting Carnival hosted by The Lone Home Ranger and S.A.H.M. i AM. This month we are discussing how we simplify the holiday season. Be sure to read to the end to see a list of the rest of the excellent carnival contributors.
***
I love Halloween! Dressing up, getting goofy and a little scary, candy, cute kids running around with many variations of "Trick or Treat!" But, that doesn't mean we have to spend a lot to enjoy ourselves! We like to mix commercial costume apparel with on hand pieces or thrift store finds. We also have no qualms with reusing a theme!
Our first Halloween with L1 we found a pea pod bunting and wore Mike's culinary school uniforms.
Our first Halloween with L2 we started our Star Wars theme. Our little Ewok was a second hand bear suit with some scrap fur and a leather vest.
(Yes, I know better than to use this kind of outfit in the carseat now.)
More thrift store finds as well as a jedi tunic that was really just a bolt of muslin fabric! The robes were made from fabric a friend found while downsizing their stash.
Because Jedis were baby wearers too!
Reusing the bolt of muslin to fashion pirate shirts, adding party favor accessories. My rainbow fairy is courtesy of a hippy wardrobe and some borrowed wings!
There is no need to overspend or even create more waste with a brand new retail costume every year. This year my boys have chosen whole new costume ideas, so we are on the lookout to pieces to complete them. I can't wait to see how they turn out! Where do your costumes come from?
***
Thanks for reading the Simplicity Parenting Blog Carnival! We hope you'll take time to read these other great contributors' posts: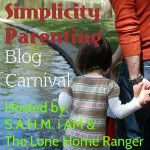 Thanks to all the fabulous writers and readers for being a part of our simplicity parenting community! Stop by
The Lone Home Ranger
and
S.A.H.M. i AM
to see how to join us for a future carnival.